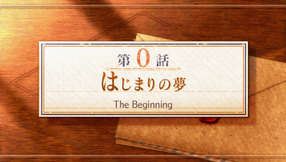 Chapter 0: A Dream of the Beginning (始じまりの夢 – The Beginning)
---
■Choosing your Cross
 This game starts at Chapter 0. This chapter has no actual gameplay. However, you have to make a important decision: Choose your partner (Cross)
■ Sumary
The Main Character's (MC) friend Ghift get lost in the woods so he/she asks for the help of a summoner: Erst (Ghift's older brother), when they find Ghift they are attacked by some unknown creatures and the MC fall in a portal in the ground where he/she gets attacked by the same creatures from before. It's when he/she gets saved by a mysterious light. To show his/her appreciation, the MC decides to give a gift to his/her savior. After receiving the gift, the light get a physical form.   
「えーっと…」 (Let's see...)
After the event, you get Illustration Set 66 and 67
Ad blocker interference detected!
Wikia is a free-to-use site that makes money from advertising. We have a modified experience for viewers using ad blockers

Wikia is not accessible if you've made further modifications. Remove the custom ad blocker rule(s) and the page will load as expected.